Opinion on crude price
24th January 2018
Please note in the opinion from 14th January 2018 that the RRC of Texas production report for October 2017 was corrected to 93 million barrels from 84 million (which narrowed the differential to 0.7 mmbd with EIA number for the month).
30th December 2017 - 14th January 2018
After a retreat in price levels in summer months of 2017, Brent prices grew from average $48.9 bbl in the summer to average $63.8 bbl in 1st-18th of December 2017 (+30%). WTI advance was slower; the crude grew from $46.6 bbl to $57.2 bbl (+23%)
The spread between Brent and WTI grew from 2% in January 2017 to 13% in December 2017 (which was somewhat typical for high growth years: winter months starting in 2010, 2012, 2013, 2014 and in 2017)
Figure. Brent and WTI prices in 2017 in $ per bbl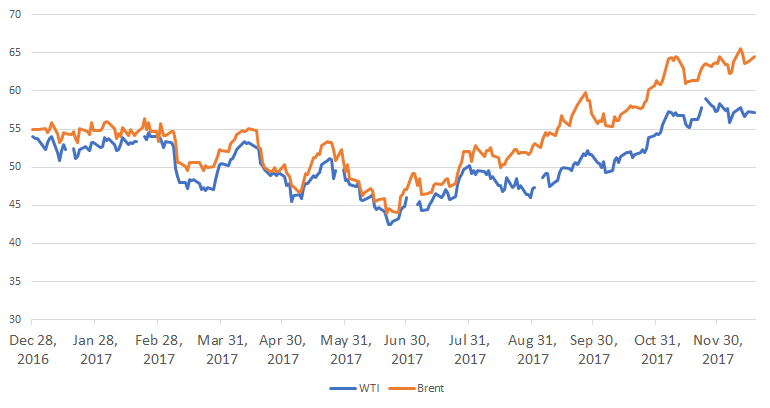 Apparently, OPEC + deal was working, and the deal was extended till the end of 2018. Russian production remained almost the same in 2017 at 547 million tons (11.1 mmbd @7.41 bbl/t as OPEC sees it),
It is generally believed that the US production will shape 2018 crude prices. From the OPEC December 2017 report "The US remains the key driver of non-OPEC supply growth, adding 0.61 mb/d to non-OPEC production in 2017" and the OPEC report also sees 1 mmbd from the US in 2018 (includes 0.31 mmbd of NGL's).
This growth supposedly will come from improvement in drilling and completion technology, but as discussed below there are doubts on whether this growth will materialize on a scale expected by key market players (below I discuss some data cross checking, which I hope a reader will find interesting)
​
According to EIA, 92% of the US production growth from September 2011 to September 2016 came from Texas, North Dakota, Gulf of Mexico offshore and Oklahoma. Texas accounted for 54% of additional production
EIA reported growth in production in September 2017 from September 2016 by over 0.9 mmbd and that 45% of that growth came from Texas (35% from others mentioned in the previous bullet)
​In October 2017, EIA reported 167 thousand barrels a day gain in production in the US to September 2017. Texas delivered additional 206 thousand barrels a day (which supposedly covered losses in production elsewhere with the largest drop of 200 mbd in the Gulf of Mexico).
Figure. Additional liquids production in the US from September 2011 to September 2017, mbd (source: EIA)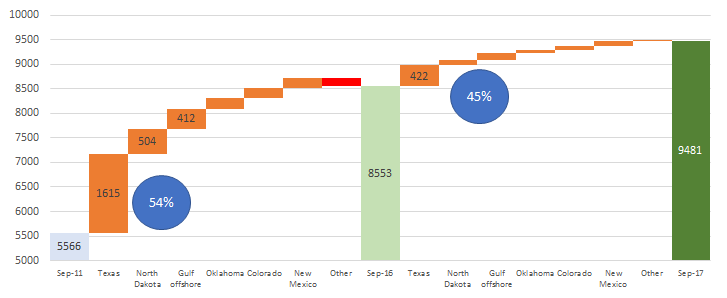 An increase in BHI rig count in Texas (doubled from summer 2016) suggested that some growth in production was indeed possible (increased drilling speeds, focus on the development of the best resources available, better completion technologies could potentially bring as much wells on stream as in 2013 on much lower rig count). But did it really happen in 2017?
I looked briefly at four data sets for 2017:

EIA monthly production (was up for the US and for Texas)
RRC of Texas monthly production
RRC of Texas well completions
BHI rig count

Differential in liquids production between EIA and the RRC of Texas in October 2017 reached 1 mmbd (higher than the total gain in the US production as per EIA). Some differential can be expected, but it was not there in 2010-2016 (immaterial differences in 2016). It is possible that EIA uses estimates based on the state reports, while the state production data is much delayed and materially under-reported and is corrected with a long delay (the data on the state production and new well completions challenges this assumption). There is also differential in gas production, but much smaller and material split starting later in the year
RRC of Texas data on production and well completions appear to be supporting each other (less wells means less production)
BHI rig count was up, which with higher productivity means more wells and more production (supporting EIA data)
If to believe both the RRC of Texas and BHI rig count data, apparent rig performance declined significantly in 2017 (which would be very strange, but not impossible)
Figure. Monthly liquids production and rig count in Texas in 2010- November 2017, mbbl and rigs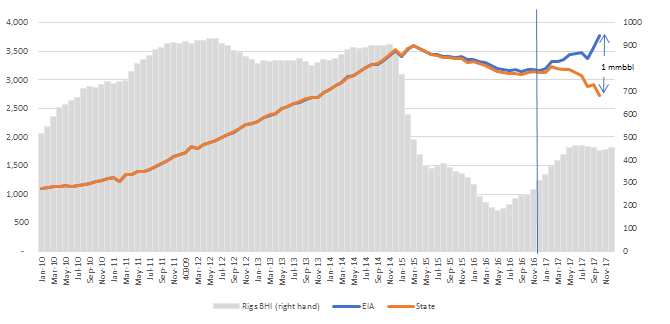 According to the RRC of Texas, the number of "new drill" completions in the 11 months of 2017 stood at 5.6 thousand (much lower than in 2016). Although completion of a well may be delayed (for example, a well drilled in 2013 completed in 2017 and wells drilled in 2017 were not completed in the year), the difference between the rig count and completions in 2017 is still vast
It is also possible that peak performance (in terms of wells) was inflated in the past years (again delayed completions). For example in 2014, sum of wells completed by district does not match total for the year (almost 2 times lower). It does match though in 2015 and in 2016, yet again in terms of rigs' performance, top number for 2014 is also possible and believable (see next two figures).
​
Figure. New drill completions in Texas in 2010-2017, wells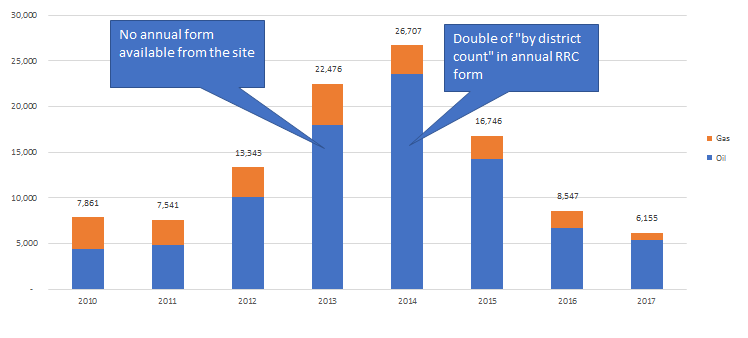 But then, why rigs' apparent productivity declined so much in 2017? With this level of activity (number of rigs) at 2013-2016 productivity levels, the number of "new drill" well completions should have been around 15 thousand in 2017
Figure. Apparent drilling performance in Texas in 2010-2017, wells per rig and days per well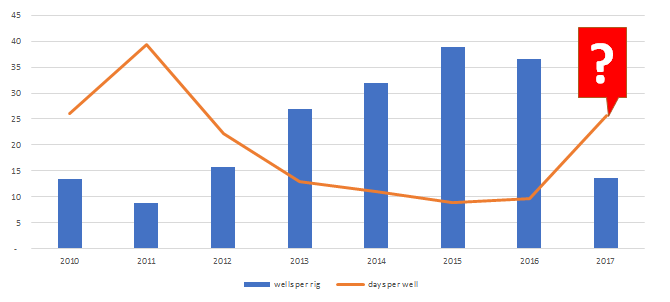 There was no active change in districts (Permian/Eagle Ford or districts 01,08 and 7C accounted for 58% of the reported new oil well completions in 2017 or slightly less than 62% in 2016)
Permian Basin rig count was the key driver of growth in 2017, thus the performance in 2017 should have remained closer to 2015-2016 levels
There was sharp reduction in apparent wells per rig in the second half of the year (two times lower than in the beginning of the year, although it was unusually low in the beginning of the year as well)
Figure. Rig count in Texas and New Mexico and in Permian and Eagle Ford basins in 2011-2017 (source BHI)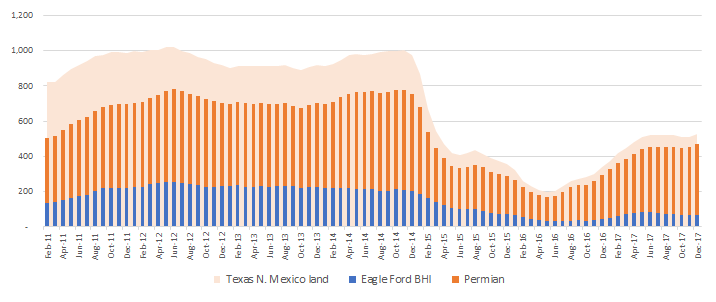 The following probably describes the situation with the US liquids production in the end of 2017:

Production by EIA for Texas (and thus for the US) in the end of 2017 is overestimated, but underlying capacity is there for moderate growth in 2018. Completions in the key producer state were delayed in 2017, which, if true, created additional capacity for 2018 (wells drilled, but not completed).
Production growth in the US will not be as large as OPEC+ expects based on EIA forecasts (accounting for lower base in 2017).
Hence, it is likely that the US production will have less impact on oil prices than OPEC+ may think. In my opinion, crude prices will continue to grow slowly in the first half of 2018 (I think that $80 bbl for Brent is possible in March 2018 with further improvement into the summer). The growth is likely to reverse in the second half of 2018 leading to average in a range between $78-82 bbl in the year. Higher prices in the summer and looming termination of the OPEC+ deal may be the cause of declining prices in the second half of the year.
Note: In January 20018 Sort Term Energy Outlook EIA suggested $60 bbl for Brent for 2018 and $61 bbl for 2019.
25 May 2017
Brent price from February 20th to May 22nd 2017 averaged $52 bbl. Market was not convinced that the deal with OPEC is enough to push prices beyond $55 bbl.
OPEC deal extended for 9 additional months. Crude oil declined 5% on the prolongation announcement.
Russian crude and condensate production reached the target end of April 2017. Officials reported 45 million tons production in April 2017 (+1.6% to April 2016, but 32 thousand tons a day lower than in benchmark October 2016). Required reduction was 45 thousand tons a day. January 2017 production data clarified at 1516 thousand tons a day in the month.
Russia's development (production) drilling grew in the 1st Q 2017, and Saudi Arabia reduced rig count by 3%. The USA's rig count grew to 900 in May 2017 (+497 rigs to May 2016).
Deeper production cuts or much lower prices are needed from conventional producers to re-balance. Both are unlikely, thus I think that there will be slow advance in average price later in the year from probable decline in July-August.
20 February 2017
Brent prices remained flat from December 2016 to mid-February 2017 at $54 bbl
Russia terminated its daily public reporting on crude and condensate production (previously available) in mid-January 2017
January 2017 crude and condensate production in Russia according to the press was 2.4% higher than in January 2016 which suggest mere 35 Mbd decline to December 2016 levels (I have to note that the press release by Vedomosti today was confusing in that it mentions the production of 46.1 million tons which would imply 0% change to January 2016 and the decline of 260 Mbd to December 2016).
This was in a very sharp contrast to the Russian Energy Minister statements that the production was cut by 100 Mbd in January 2016 (although the statements were made mid-January after some production interruptions due to extremely cold weather in Yamal where most of the production growth came from). The Minister suggested on 16th of February 2017 that the production cuts for February 2016 will be over 100 Mbd and over 150 Mbd in March 2017
Saudi Arabia rig count remained flat at its peak while compliance of OPEC to the production cut in January was estimated by EIA to be around 90%
12 December 2016
Apparently OPEC and Russia finalized an agreement to cut production on December 12, 2016. The agreement was announced on the 30th of November.
Brent prices "shot up" from an average of $46.6 bbl in August 1st to November 29th to $53.3 on December 5th, 2016 and to $54.3 bbl on December 9th (a roughly 15% improvement from the average in 8M-11M 2016). The announcement will push prices up further.
The Russian share in the production cut should amount to 300 mb/d by April-May 2017 (the reduction of 41 thousand tons a day or going back to 1480 thousand tons a day as in summer 2016). The negotiated reduction will be gradual (50 mb/d in January, 200 mb/d in March). Given current natural decline rates in mature fields, it should not be too difficult to achieve by cutting OFS activity levels and shutting-in some fields/wells. At the same time, activity levels in winter months were always low and the production decline after active drilling in summer was very slow in recent years. There will be problems with forward planning since the winter-spring time is crucial for OFS capacity placements (oil companies should understand their activity levels for the whole year which the production cut complicates). It will be interesting to see where and how this production cut will be implemented (or reported).
Given that the cut will push the price to $60 bbl there will be no difference in export proceeds to oil companies (the "cut" losses will be offset by the increased price after taxes). The state coffers will benefit from the price growth (if indeed the average price will grow to $60 bbl). If the price will not go up while the cut will be implemented though, the industry will lose $2.7 bln amid difficulties in quickly recovering losses in the production.
It is likely that the crude price will grow to around $60 bbl after the news will be fully digested and actions taken by Saudi Arabia (rig count there should go down as an indicator that the price war is over). The price will remain there till the end of February 2017 (when January 2017 results will be checked, although Russian commitment is so small that there will be nothing to see there). If there will be doubts in compliance to the agreement terms a new round of the price war may start and prices may go down again. If compliance will be confirmed then there will be slow growth thereafter.
15 July 2016
Brent averaged $39.77 bbl in the 1st H 2016 and WTI averaged $39.53 bbl in the 1st H 2016. The price reached $50 bbl much earlier than I thought in February 2016. It is likely that crude oil price will remain within $40-50 bbl range till the end of the year (average for the year circa $43 bbl suggested by Morgan Stanley and EIA in mid-June 2016 was apparently built on this assumption). Yet again, it is possible that oil price will slide in the second half of 2016 as targeted supply-demand balance is unlikely to be achieved in full by the end of the year (I am inclined to think that average for the year will be closer to $40 bbl).
Saudi Arabia, Kuwait, UAE maintained a number of drilling rigs at around 215 rigs in the first half of 2016 without much volatility (very much in line with February 2015-February 2016). Apparently these producers are satisfied with the present balance (the crude oil price and its impact on activity levels elsewhere). It is likely that drilling activity will grow if crude prices will grow beyond $60 bbl for extended period of time (one-two months).
The USA crude production in April 2016 was 0.76 mmbd lower than in April 2015 (according to EIA). Average monthly decline of 0.7% since the peak in April 2015 amid reduction in drilling rigs by over two times in the same period.
The USA rig count declined to 420 in the second quarter of 2016 (Baker Hughes Rig Count) – much below numbers that oil price dynamics would suggests. The impact of the decline in the second quarter is difficult to assess as crude production data is delayed (latest April 2016). Present crude oil price is insufficient to increase drilling activity by much.
It is probable that active rigs count will grow to around 650 in the US by the end of the year. Given that active rigs drill only best assets (highest flows) in the USA, the future decline rates will remain relatively low (e.g. reduction in the rig count is not proportional to reduction in production from new wells) and additional rigs will have limited marginal value to indebted industry if oil price remains below $50 bbl. It is probable that drilling for oil activity levels will remain weak till the end of the year. Probable growth in natural gas prices may increase activity levels and reduce decline rates in crude production (although supply remained strong in April 2016 – less than 1% lower than in April 2016).
The US crude oil production is likely to decline to 8.0-8.3 million barrels a day by the end of 2016 or 1.4-1.7 mmbd lower than peak production in April 2015 (but "just" 0.7-1.2 mmbd lower from February 2016 when assumed global overproduction peaked).
Russia, on the other hand, continued to increase drilling (daily footage 15.4 % higher in the first five month of 2016 to the same period in 2015) and increase crude production (1.7% growth in daily production in the first five month of 2016 to the same period in 2015).
Inventory build-up continued in early July 2016.
Federal Reserve did not raise rate in June 2016 as was expected
​
Figure 1a. Monthly Brent price and drilling activity in the Middle East, USA and Russia in 2014- June 2016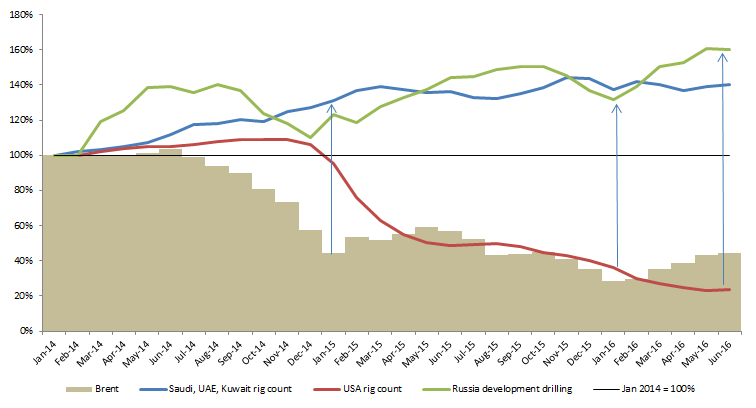 Figure 3a. The USA rig count and crude oil price in January 2014-June 2016

15 February 2016
The future direction of oil prices – how will the price evolve in 2016 and beyond? There are so many issues, complexity of input data and its deficiencies that now and then an oil guru will exclaim: "nobody can predict crude oil price". The difficulty in price forecasting by and large relates to the fact that oil is not purely a market priced commodity. The price is not determined by a "cost plus margin", but also includes premium (may be described as tax) paid by consumers to the most economically advantageous reserves owners.
​
The nature of the recent decline in oil prices raises many questions for an analyst trying to forecast the future price development. Is it a coincidence, a perfect storm, the results of which will take many years to resolve? Was this decline a result of targeted action by Saudi Arabia & such which coincided with many other factors (the return of Iran, upstream technology, slowing demand, etc.)? Regardless of the true causes of the decline, it is safe to assume that the key player (s) has some set of goals in the crisis for analysts to deduce.

Analysts in the last year and a half resorted to the following strategy: "Following the trend and waiting for the rebound". It is understandable as some crucial data is simply unavailable or much delayed. The decline in crude prices in 2014-2016 forced analysts to follow the trend – they remained one step behind. Apparently most waited for the quick rebound. The U-shaped rebound was expected by large analytical outfits as late as November 2015. Sentiment finally changed in very late 2015-early 2016 and many started to talk about testing $20 bbl and about crude prices sticking to below $50 until 2020.
Early 2016 forecasts for 2016

Forecasts for 2015

Late in 2014

Before price drop in September 2014

Actual Brent

$31 bbl (Jan)

$70 bbl (Nov-Dec)

$107 bbl (Jan-Aug)

Fitch Ratings

$45

$80

Goldman Sachs

$40

$85

$100

JP Morgan Chase

$31.5

$82

$115

Horsnell

$105

$110

HSBS

$45

$95

$90

Bank of America

$45

$77
A change in analysts sentiment means that one of the supposed goals of keeping prices low is achieved (again assuming that someone has the set of goals and can keep prices low). There were two primary target audiences for the message: marginal crude producers (including, but not limited to, USA oil companies) and bankers, who provided enormous investment into marginal business (marginal taking into account the cyclicality of oil business and historical price levels).

Marginal oil producers and bankers will remember this price shock for a very long time (or at least that might be the expectation). Even if the oil price will jump to $100 bbl tomorrow, marginal producers will be less active (busy with deleveraging) and bankers will surely be more cautious in providing cheap capital.

It is very much confirmed by the oil industry stakeholders that the message ("volatile and very low oil price for a very long time") was received by the target audience. Another question is whether it was fully digested by all (for example, important players such as the president of Russia not necessarily bought the argument yet). It is also evident that the message has not yet demonstrated tangible results in declining supply: there is no hard evidence widely available that marginal players reduced their output (yet). Here delays in production data are compensated by monitoring storage capacity, which in turn is not as clear-cut story as many would like. The latest production data from the US in mid-February 2016 is as of November 2015 (a full two months behind). Production data delay is a problem for all players, including those who may influence supply.

In other words, to take action a player requires hard evidence that his "opponents" took action to reduce production materially. So far we are not in this stage. The USA industry slashed drilling activity along with crude oil prices (see Figure below), but there is no evidence that the decline in the production is large enough and effects of the low oil price entrenched deep enough in the memory of industry stakeholders. The mysterious concept of shale oil as swing capacity (in my humble opinion, drilling a well is still drilling a well) introduced by the Economist may have some merit to it – so many people have invested so much in the shale development that to get return on invested effort and capital they will resume drilling as soon as the crude price and investment availability will permit (to think of it, a reduction in the number of players in the USA may be another long term goal, although unachievable). Russia very much ignored the low oil prices of 2015 (in terms of the production and drilling activity) and today it produces at historic peak levels. Kazakhstan had a moderate decline which related only on part to low crude oil price, but which will be easily offset by expected gains in 2017.

It is interesting how large Middle East players (Saudi Arabia, UAE, Kuwait) reacted to the crude price movements in 2014-2016. It appears that the decline in the Brent price prompted an increase in drilling rigs in the 25 months since January 2014. In fact, the Baker Hughes rig count for these countries had a negative correlation of 93% in the period. The USA rig count correlated at 84% (positive). Russia's development drilling was up almost 12% in 2015 from 2014 levels. Russia's drilling did not have meaningful correlation with Brent price in the period (-40% in part due to a high seasonality factor), but there is a limited impact of the change in the crude price on a producer's business due to the taxation scheme used (although, compared to present conditions, the average price in 2015 was not too low at $52 bbl).
​
It has to be said though that Saudi Arabia, UAE and Kuwait according to OPEC's February 2016 report added only 0.5 mb/d in January 2016 to the average daily production in 2014. This may suggest that these countries have to drill more to support the production, but most likely it is a capacity build-up to cover shortfalls in future supply.


Figure 1. Monthly Brent price and drilling activity in the Middle East, USA and Russia in 2014- Jan 2016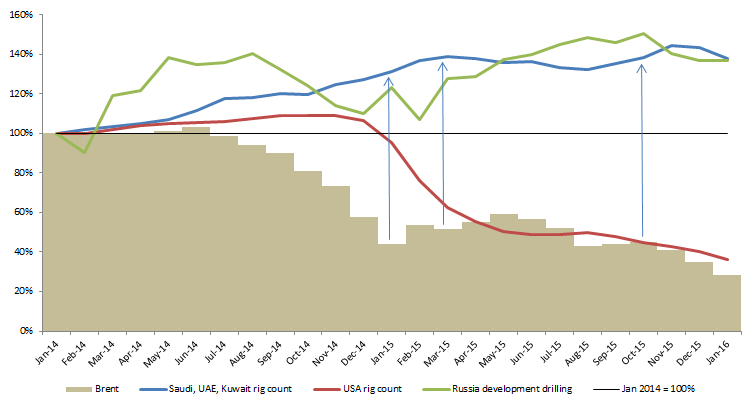 The Figure above suggests that we are witnessing a two year "staring contest" that is still going on. Who will blink first? The USA industry seemed to follow the price by a reduction in activity, but we cannot count it as a "blink" unless there will be a material decline in the production. Russia, it seems, is staring in another direction altogether. And everything only got worse with the potential of Iran coming back big time. In this competitive environment, it is difficult for Saudi Arabia to decide on the right approach to its medium-term strategy.
​
OPEC forecasts do not suggest material changes in the future crude oil supply. The forecast in the February 2016 report offers a 0.7 mb/d decline in non-OPEC production in 2016, which is far below the alleged 2 mb/d of present oversupply. OPEC in its monthly Oil Market Report in February 2016 suggested the following visions for the future in 2016:
| | |
| --- | --- |
| Quote | Comment |
| "…US total liquids output is expected to decline by 0.40 mb/d to average 13.54 mb/d in 2016. The country's oil production for 2016 is seen to stand at 13.64 mb/d, 13.50 mb/d, 13.43 mb/d and 13.57 mb/d on a quarterly basis". | This is not a vision of a material change in the production. The USA added 3.8 mb/d of crude production in 2014 from 2011 compared to 0.5 mb/d added by the Middle East according to BP Statistical Report (annual averages). |
| "For 2016, Russia's oil supply will decline by 60 tb/d to average 10.74 mb/d. On a quarterly basis, total oil supply from Russia in 2016 is seen to average 10.79 mb/d, 10.71 mb/d, 10.69 mb/d and 10.77 mb/d, respectively." | This is not a vision of a material decline in the production. It is possible that the production may slightly decline in 2016, but extensive drilling in 2015 and the growth in the number of horizontal wells plus new projects may push production up for the year. |
| "Oil production in Kazakhstan in 2015 declined by 30 tb/d to average 1.60 mb/d and is anticipated to see a further decline of 40 tb/d in 2016, to reach 1.55 mb/d. In November, oil output increased seasonally by 160 tb/d to 1.65 mb/d. Nevertheless, oil production in Kazakhstan, mainly from major fields such as Tengiz, was seen declining recently and this trend will continue until the Kashagan field starts to produce."   | This country's production may slip by the suggested volume in 2016 (immaterial to the global standoff), but references to declining production at Tengiz are, simply put, wishful thinking. This project plans to increase production by 200 tb/d in several years' time. |
Since there are not many bright spots in the supply reduction, only significant growth in demand may wipe out the 2 mb/d imbalance in the market. OPEC expects demand in 2016 to grow by 1.3 mb/d, which is lower than the 2015 growth. Hence, OPEC balances books by cutting forecast of production by 0.7 mb/d and increasing demand by 1.3 mb/d. The organization expects that 0.9 mb/d of additional demand will come from Other Asia (India), China and the Americas (with the exception of India, the demand for crude was in decline in China and the Americas late in 2015). Present economic conditions suggest that 2016 will be a difficult year for demand growth in spite of support from low crude prices.

Slower demand growth and a small relative decline in supply will mean sustainable oversupply. Excess supply will be reinforced by negative expectations for the dynamics of demand growth and will place downward pressure on oil prices. Stock pile build-up supposedly may help, but in practice those capacities are already overfilled. It is, therefore, likely that the price growth will require a reduction in supply in the order of 2-3 mb/d. This reduction will have to come from the USA and OPEC (others will contribute, but these two players have to be the triggers for the price to move).
​
A price of $30 bbl appears to be reasonably low as it is just a bit lower than the investment threshold for key players. In the States $30 bbl oil is a breakeven point for the best shale oil drillers in Texas (if you take into account the oilfield servicer's prices collapse in 2015). Many smaller companies in the USA are on the brink of bankruptcy and there is nothing out there to support them (even exceptionally warm weather kept natural gas prices unbelievably low). Russia's oil companies with that price level will be unable to maintain investment at the 2015 level even with exchange rate of RUR80 per dollar (they will need $45 bbl at this exchange rate). For example, Rosneft at this crude oil price level needs at least RUR100 per USD for EBITDA to be just a notch higher than planned CAPEX. Gazpromneft and LUKOIL will be at parity (EBITDA/CAPEX) with ruble at 100. The government suggested an increase in taxes for oil companies; if approved it will push the "required" exchange rate to RUR120. But it is politically dangerous to allow the ruble to fall further, thus it is unlikely. And in spite of all of this, Rosneft insists on 30% CAPEX growth in 2016 (in rubles thought), indicating that the message in full has not been received yet (although the frequency of a mentioning of potential reduction of 15 million tons or 0.3 md/d increased). CAPEX cuts in Russia should be firmly announced before one can conclude that Russia will reduce production (it will be a task of enormous complexity as there are many large projects in a pipeline).
Opinion on the future crude oil price is as follows:
The fear of low crude prices is not yet entrenched in the minds of key players (we are just literally six month behind the 2009 recovery in terms of prices – chart is below). In my opinion, it will take another 3 to 6 months to complete the entrenchment. This will be achieved when forecasts by all leading analysts will be set at $30 bbl for 2016 and 2017. The future recovery hopes should be offset by instilled fear.
Within this period, high volatility is expected at around the $30 bbl mark. And yes, testing $20 bbl is possible in February-March.
The turning point will be marked by a combination of events: 1) a larger-than-expected decline in the USA production, 2) a sustainable trend of a falling crude stock in the USA and Europe, 3) Russian production growth stalls and reverses while CAPEX cuts are announced and firmly in place, and 4) OPEC members finally agreeing to production cuts (and reduction in drilling activity in the Middle East as confirmation that the agreement is real). It is worth mentioning that there are other possible events of a different nature, which can trigger price growth (like the spread of the Syrian conflict).
A gradual price recovery after all the industry-related events listed above to around $50 bbl by the end of the 2016 marked by high volatility (average price in the range of $34-39 bbl for 2016). The price growth thereafter to $70 bbl by the end of 2017 (average price in the range of $51-56 bbl) with significant volatility along the way to remind everybody of the danger to assume that the price will only grow in the future.
In the process, there are fortunes to be lost and whole countries will be shaken up. Buckle up.
​
Figure 2. Monthly Brent price and Saudi Arabia rig count in Jan 2009- Jan 2010 and in Jan 2014-Jan 2016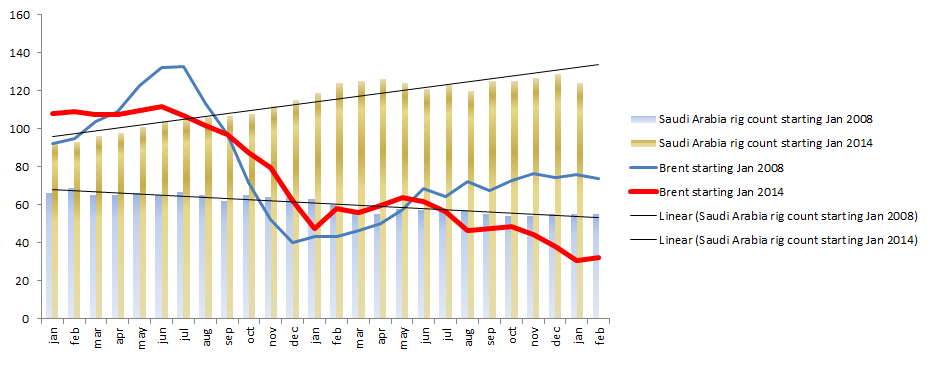 ​This is my (REnergyCO) opinion on the future direction of crude oil price.