Crude and Condensate Production in Russia
Production will be flat in 2017 at just below 547 million tons. ​

Crude and condensate production in Russia grew 2.5% in 2016 to 547.5 million tons. The growth in September 2016 was delivered by new projects in YaNAD and continued growth in East Siberia. The production was pushed further by increased Sakhalin production.

Figure. Daily crude oil production in Russia in January 2007- October 2017 (thousand tons a day)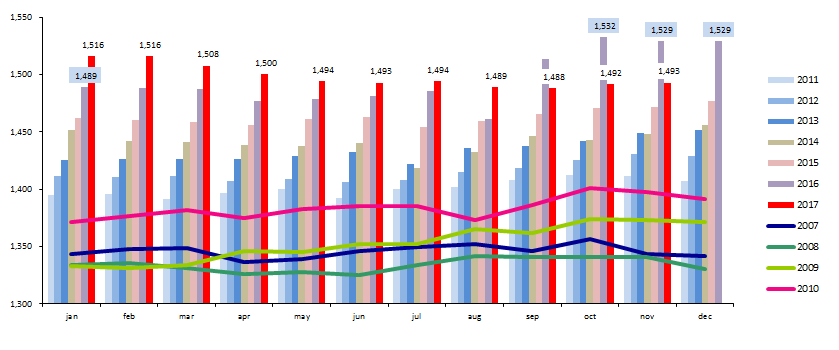 Crude and condensate production grew 1.4% in 2015 to 534 million tons. The production was pushed higher by almost all regions. The growth was driven mostly by increased condensate production in Yamal and continued growth in East Siberia. Sakhalin projects added almost as much as East Siberia - the region where growth rates have subsided in 2015. New projects in Tomsk and Timan-Pechora supported growth in the regions. Volga-Urals production was increased by all large oil companies for an exclusion of Rosneft. Largest contribution to the growth was made by Arcticgas (JV between NOVATEK and Gazpromneft) and Bashneft, although the latter delivered only a fraction of the former increment.

Crude production in Russia grew by 0.7% to 526.8 million tons in 2014. Additional production was delivered by growth in East Siberia, Uvat project in South Tyumen, Yamal, Timan-Pechora (mostly joint Bashneft and LUKOIL project) and Sakhalin.

In 2013, the crude and condensate production in Russia amounted to 523.3 million tons (10.46 mmbd). The production growth in 2013 to 2012 was driven by gains in East Siberia and Yamal. Vankor field remained a key contributor to the growth.

Crude prices have marginal impact on oil companies' investments due to the structure of taxation. Upstream economics net of taxes will have lesser impact than politically set production targets.
​